At the monthly work session tonight (2.1.18) at City hall, the Board of Commissioners (BOC) listened as City Attorney Chris Patterson explained the possible transition of fire services from Shelby County to the City of Lakeland.
Link to agenda: http://tn-lakeland.civicplus.com/ArchiveCenter/ViewFile/Item/742
The start date for Lakeland to begin operation of the municipal fire department could be July 1, 2019. "There is a lot of work to be done," said Mr. Patterson.  Among the tasks are sending notice to the Shelby County Fire Department of the City's plan to leave.
He discussed coverage areas (shown in exhibit in agenda) and said they will effectively be the same as with service now.  Some areas will receive service from Lakeland first, then Shelby County, he said.  And in some cases it will be the reverse.
"The County has been very easy to work with," said Mr. Patterson. But he emphasized, "It's very important that the BOC know if you move forward, you've got to get this going in a year and a half."
Mayor Wyatt Bunker complimented the working relationship between the two governments saying, "It's a huge success story, working together."
Vice Mayor Josh Roman noted that this will start the clock working and he'd like to see a funding exhibit.
Mayor Bunker said that realistically the budget should allow for hiring some experienced people and he agreed he would like to see what the expenses are going to be.
Transitioning from County to City fire services has been a topic of conversation with commissioners to lower and then eliminate the fire fee currently on MLGW bills, with no tax increase.
The most recent discussion on creating a Lakeland fire department was meeting number two in a series of five sessions for the Lakeland 2020 Strategic Plan. The fire discussion was in October 2017.
General assembly uses
Cory Brady, PLA, AICP, city planning director, was asked to speak about general assembly uses.  This became a topic of conversation in December when a Lakeland resident came before the BOC interested in turning 33 acres on Chapel Hill road into a wedding venue. At the time, commissioners were concerned about noise and traffic in a residential area.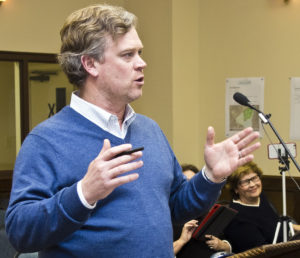 The plan is off the table but Mr. Brady suggested it might be a good idea to have some specific guidelines for the future.   He noted there is a big Agritourism push, using  beautiful farms for weddings and other events.  He suggested such events could spiral out of control.
Instead he recommends a conditional use permit which would allow the City to take each request on a case-by-case basis.  He said that gives the City more of an open-door policy.  He added that allowing general assembly could lead to alternative general assembly which may not be what the citizens want.
SCSO report
Sgt. Nathan Cockman with the Shelby County Sheriff's Office (SCS0) gave the monthly incident report noting 27 incidents including nine thefts from motor vehicles.  Six of those were unlocked cars, he said.  He reminded citizens not to leave cars running, unattended, with the keys in the ignition. "That is a crime of opportunity," he said.  "Take a moment to make sure your car is locked."  Additionally the SCSO is still working a robbery of an individual, the burglary of Walgreen's and a robbery at the Shell gas station.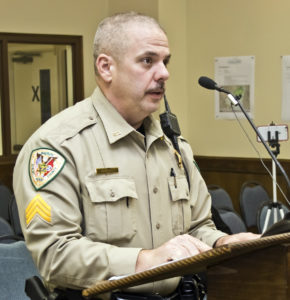 According to the report, the most frequent day-of-the-week for incidents was Friday with six and the time-of-day was 10 a.m. to 2 p.m. with eight.
Beehive presentation
Josh Thompson, Lakeland GIS manager (Geographic Information System) gave an overview of the Beehive Asset Management System (AMS), in place for about 18 months at City Hall.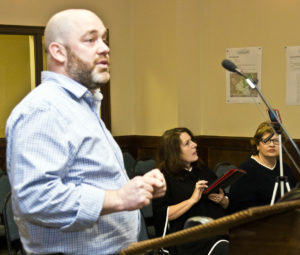 He explained the system has been a huge success at the staff level and involves a variety of modules: wastewater, stormwater, roads, parks, facilities, fleet, street signs, permits and code enforcement.   The system simplifies work orders and provides data on equipment and labor costs. Background on the need for the new system, below: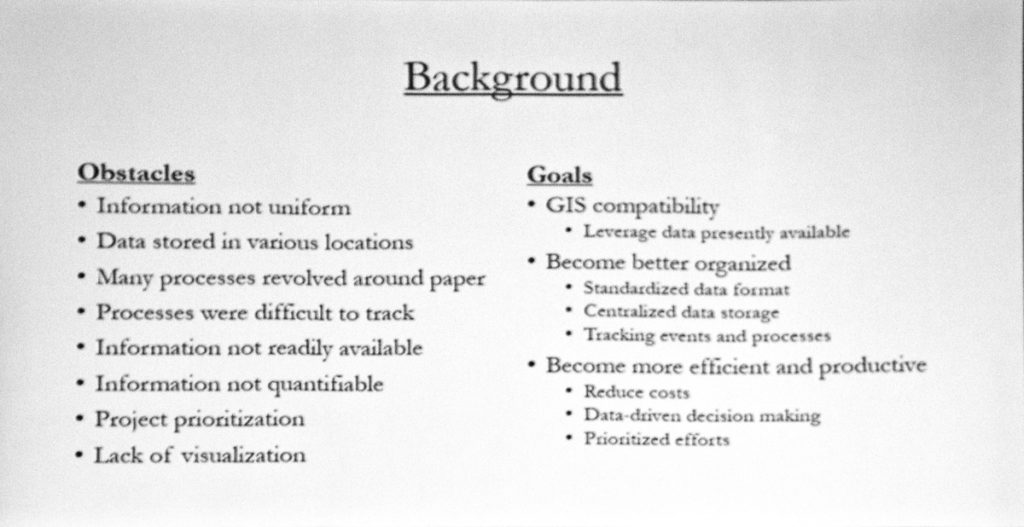 Emily Harrell, P.E., CPESC, city engineer, further detailed the system by saying it offers efficiency, consistency, tracking, GIS/mapping and budgeting.
Development Report
Mr. Brady gave a monthly report to commissioners about projects in Lakeland and their status.  See below:
Vice Mayor Roman asked about Long Landing, a development off Seed Tick Road where numerous mature trees were razed over the weekend, unpermitted by the City.
Jim Atkinson, city manager, said there are two properties in that area.  On the southern end there will be a large house next door to Long Landing.  The owner had approval to clear trees.  On the north end is the lot where developer Mike Long needed approval but cut down the trees anyway.
Former Lakeland Certified Arborist Eric Bridges was asked to assess the damage and determine what it will take to replace the trees.  Mr. Atkinson said the developer will be fined hefty penalties and has to go back to the MPC (Municipal Planning Commission) with a plan. Asked if permits for new building could be withheld, Mr. Atkinson said yes, and Mr. Long has four lots remaining in Long Landing.
Other business
Three items were moved to the regular agenda:
Ordinance on amending the FY2017 budget
Fire services resolution
Resolution for a contract with Susan Ewing, marketing strategist for services related to the Lakeland 2020 Vision. The budget for the plan is $30,000.
Three to consent:
Ordinance for park rules
Two resolutions dealing with Winstead Farms Planned Mixed Use Development
As the meeting came to a close, Commissioner Matt Wright asked if the SCSO could be asked for five years of Lakeland crime statistics to compare the numbers.