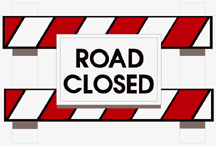 At the height of the school traffic drive this morning, Beverle Rivera Drive was closed because a gas main was hit by a contractor, said Emily Harrell, city engineer.
The traffic snag was noted just past 8:30 a.m. as parents headed to LMPS (Lakeland Middle Preparatory School) which starts at 9 a.m.
Mrs. Harrell said the road is closed temporarily until the main is repaired.  "We do not know how long it will take yet but I will share details when available. The road should be opened at some point today."
The Lakeland School System posted a notice on their Facebook page as soon as the problem was noted.