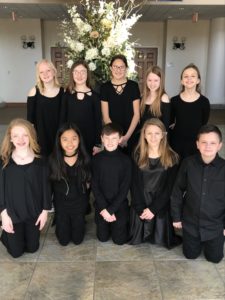 Ten students from LMPS (Lakeland Middle Preparatory School) participated in the 2018 All-West Tennessee Festival Chorus Friday (2.9.18) at First Baptist Church in Millington.
Video shows the students in rehearsal before the actual performance.
Tonya Miller, LMPS choir director, was co-chair for the Festival.
Mrs. Miller said the Festival is open to fifth and sixth grade students.  Those from LMPS included Catherine Fedotova, Toby Harrell, Brianna Jones, Aaron Kirk, Gezelle Madduma, Samantha Pruitt, Rylee Rummel, Kaitlyn Thompson, Emma Wilkins and Bailey Witt.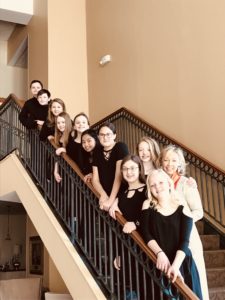 "We learned six songs on our own," said Mrs. Miller.  "The students participated in an all-day clinic and rehearsals with Dr. Dilworth to polish the music and bring it to life."  Dr. Rollo Dilworth is professor of choral music education and chair of the Music Education and Music Therapy Departments at Temple University in Philadelphia
Rehearsals were from 10 a.m. to 4 p.m. with the concert at 5 p.m.
The Chorus is sponsored by the West Tennessee General Music Education Association (WTGMEA) with a mission to promote the advancement of high quality music education for all.
… Photos and video courtesy of LMPS.